by Tyler Reese & Dominic Bills
What is Flag Day?
This under-appreciated holiday is not accompanied by a day off work or school, leaving many to wonder: "what is its purpose?"
Throwback Thursday all the way to 1777, the year congress decided on a national flag (pictured below, designed by Betsy Ross).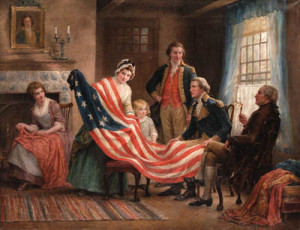 This flag (along with it's subsequent iterations) has become an important part of our nation's history, inspiring songs, poems, and even a holiday. The flag has been particularly poignant for our servicemen and women; a clear symbol of everything they fight for.
How did Flag Day come about?
The Continental Congress adopted a resolution on June 14, 1777. "That the flag of the United States shall be thirteen stripes of alternate red and white, with a union of thirteen stars of white in a blue field, representing the new constellation."
Some claim that the first celebration of what is now Flag Day took place in Hartford, Connecticut in 1861. In the 1800s school children all over the nation held programs on June 14th to help Americanize the immigrant children. One of the most recognized claims of these programs was in New York, on June 14, 1889. Professor George Bolch organized ceremonies for the children in high school to honor the anniversary of Old Glory's birthday. This caught the attention of the New York State Department of Education, which adopted the tradition for all public schools the next year. Other celebrations arouse in Wisconsin and Pennsylvania; in fact, on May 7, 1937 Pennsylvania was the first—and only—state to recognize Flag Day as a legal holiday.
Presidents Wilson and Coolidge both passed proclamations stating that June 14th be recognized as National Flag Day in 1916 and 1927, respectively, but it wasn't approved by Congress and signed into law by a President until Harry Truman in 1949.
How do I celebrate Flag Day?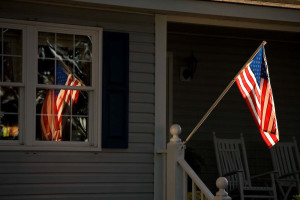 Display your loyalty: The easiest and most traditional celebration: Hang a flag. It doesn't take much effort, but it can make a big difference to those who see it.
Learn about local government and history: Take the opportunity to visit local historical sites and government buildings. There are so many in Utah County, and even more if you want to take the time to go up to Salt Lake.
Learn about the flag: Look at different versions of the flag since 1777. Did you know there have been 27 different official versions of the flag? Fun fact – the current version of the flag dates back to July 4th, 1960 when Hawaii was added as the 50th state. Look into when states joined the union and when the flag changed because of that.
Go to a flag retirement ceremony: these are held at different times during the summer, typically by Boy Scout Troops, the National Guard, or other civic or military-based organizations.
Ultimately, find the way that feels best to you to celebrate Old Glory: Maybe that means singing patriotic songs as a family or watching a historical movie. Perhaps your family would rather celebrate with a neighborhood barbeque or visit to a nearby veteran's memorial. Whatever you decide, take some time this weekend and celebrate the flag and this great nation where we are blessed to live.