A week ago, Garrett and I had the chance to visit the Boys & Girls Club at Aristotle Academy. This great program has a fun way of working towards three aspects of great futures that the Boys & Girls Clubs of America has identified as important elements of each club site: academic success, healthy lifestyles, good character & citizenship.
The club starts each afternoon at 3:10 with a snack. Staff members work to find healthy snack options that the club members enjoy. Following the snack, they jump right into homework time, their key time spent focused on academic success. The Aristotle Academy club is open to students from Kindergarten to 8th grade, making it the program with the widest range of ages in the county. In order to more effectively help the students with homework time, which starts at approximately 3:30 and lasts until 4:30, they are divided into two classrooms according to age-range. Kindergarten through 3rd grade goes in one room, while 4th through 8th grade is in another. Both classrooms are staffed with teachers who are able to answer questions and help students with their work. Having this access to teachers during homework time is especially valuable for these youth, as it allows a greater opportunity for them to ask questions and receive help in a more personal setting. If students finish their homework before 4:30, they are asked to read (or, for some of the younger children, to color or work on something academically related) in order to keep this hour focused on academics. The hour of homework time is a key factor in empowering these young people to have great futures, as it helps them develop discipline and good study habits.
On Tuesdays and Thursdays, the club members are lucky to have a taekwondo instructor from Booth's ATA Academy come and teach them. I was highly impressed that this instructor not only works with club members to help them have healthier lifestyles, but that much of his training focuses on good character & citizenship as well.
The instruction began with a few warm-up drills. Students did some sprinting, push-ups, and jumping jacks to get ready for the rest of the afternoon's activities.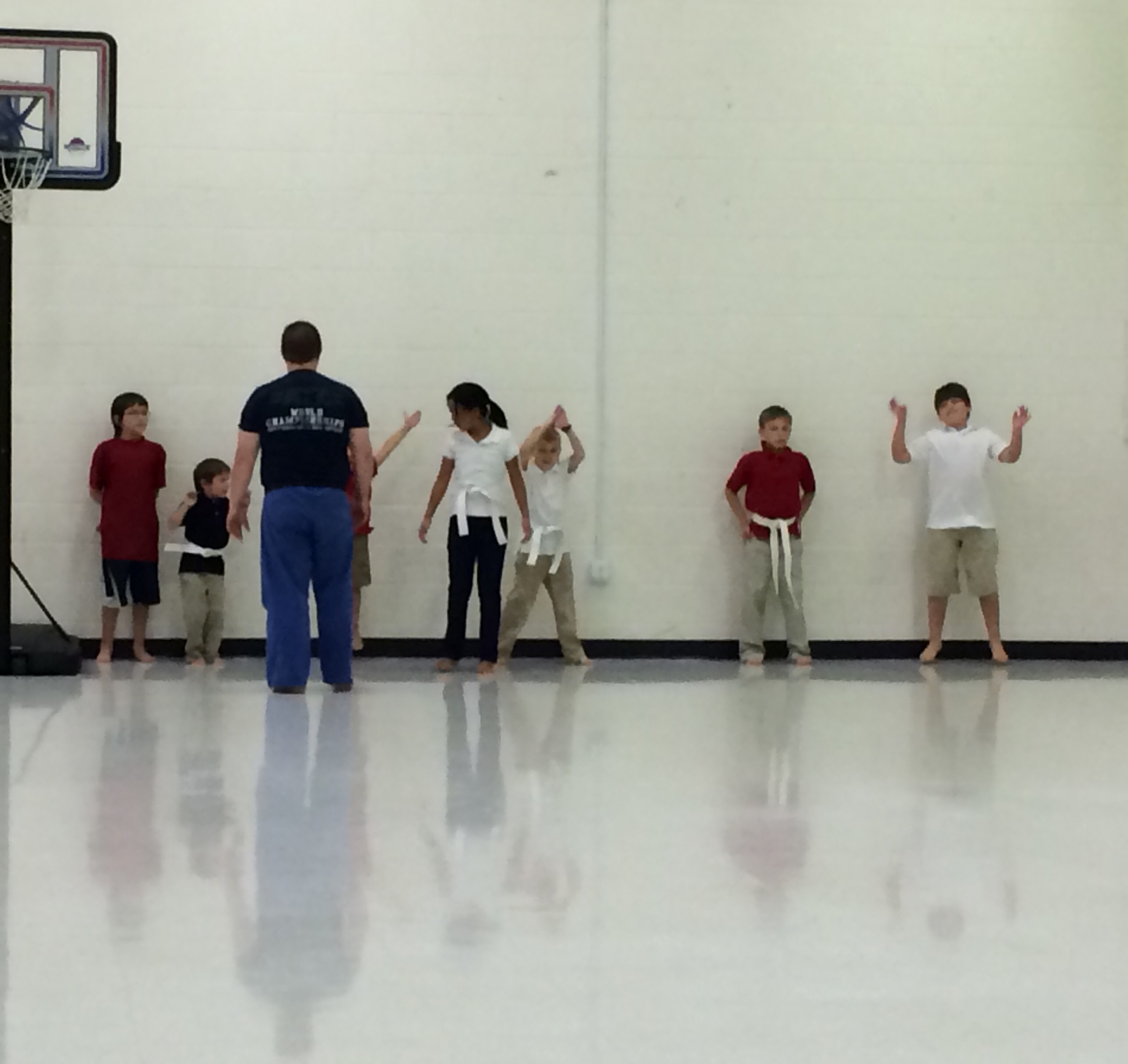 They worked on using their arms to block an oncoming hit. The instructor was great at working with the kids!
After working on arm blocks, the instructor had the kids sprint a little more and do some crunches. His method of intermingling simple fitness activities like push ups, jumping jacks, crunches, and sprinting with the taekwondo activities was impressive to me. What a great way to teach kids things they can do all on their own and without needing any equipment, that they can use to stay active.
The next activity they worked on was punching technique. The instructor had a big foam block on each hand, which he would coach each child to hit. He worked with them on their form, stance, and things like making sure their thumbs weren't inside their fists when they went to punch.
Following more jumping jacks, it was time to break boards! The students were really excited for this activity, and each one had the chance to break two boards by kicking them. (Don't worry, no splinters happened because these are specially designed martial arts boards. They're plastic and wedge together so they will split in down the middle if enough force is used, but they reattach.) The kids loved this, and had a lot of fun practicing kicking stance and technique.
After this, the instructor began a game of "instructor says." He explained to the club members what the word integrity means, and that it is an important trait for everyone to have. He told them they would play this game to practice integrity and honesty, that he wouldn't always see when they did something not introduced by the words "instructor says," but that it was their responsibility to sit down even if he didn't catch them, because that' s demonstrating integrity.
I played "Simon says" plenty of times as a kid, but I never had someone explain that the game was about more than listening closely and having a fun time. What a great way to help these club members develop good character and citizenship, by helping them learn it through a fun activity!
The club members played several rounds of "instructor says," which led them through doing all sorts of things like hopping across the gym like a bunny, jumping with just one foot, spinning in circles, army crawling, standing and sitting, more jumping jacks and crunches, and practicing kicking the air. While the kids were having a great time, they also had a lot of practice demonstrating honesty and integrity when the instructor would pause them and say "I didn't say 'instructor says' before that direction. Does anyone need to sit out?" Each time the club members chose to be honest. After a few rounds, the instructor didn't even need to ask. When the students realized they'd made a mistake, they sat out on their own. It was a great activity with valuable lessons.
After taekwondo, the day at the Club was done and kids returned home. What a fun day to spend with such great kids! The Aristotle Academy Club is a great place for kids to work towards academic success, healthy lifestyles, and good character & citizenship. Great futures are starting here!