by John Ternieden, Social Media Volunteer
July 4th has come and gone, and now it's back to the daily routine. And while kids are still enjoying the warm summer weather outside of the classroom, moms and dads are still stuck in the office.
Balancing work and family live is never easy. Our schedules are packed and it's difficult to find time even for important tasks. With all that's going on, many parents struggle to make healthy meals their kids will enjoy. As a result, we default to frozen meals and microwaveable dinners.
But we need to be careful. Childhood obesity rates are on the rise, and unhealthy eating habits are largely responsible.
It's time to fight back with some healthy snacks.
To help make the lives of moms everywhere a little easier, we thought we'd give you a short and simple list of some popular healthy snacks your kids will love.
These healthy snacks are great for your kids and can be made in minutes. That means less stress for you and more time to get things done.
Bon Appétit.
1. Apple Slices and Nut Butter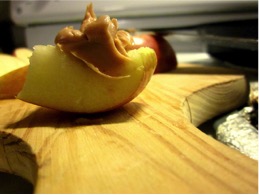 Apple slices again? Boring mom!
That might be a familiar tune in your kitchen.
But that doesn't mean you need to go on the hunt for a new, exotic fruit to wet the appetites of your hungry kids. Instead, just throw in a little twist.
Head to your local grocery store and check out the peanut butter aisle for nut better. This healthy butter can be made from almonds or cashews, and is a much healthier alternative to peanut butter. Even better, it goes great with apple slices.
IF you're feeling even more adventurous, sprinkle a little cinnamon over the top.
2. Roasted Chickpeas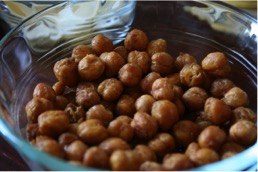 Are you kids looking for a savory, crunchy treat and begging for some chips?
There's no need to open a bag.
Instead, look no further than chickpeas.
These inexpensive legumes are super tasty. Not to mention, moms will love the seal of approval give by the Heart and Stroke Foundation for their high levels of fiber and iron.
The best part is you can make a big batch all at once, and then store them for later.
The Heart and Stroke foundation offers three simple, tasty and healthy recipes to switch up the way they're served.
Enjoy!
3. Frozen Grapes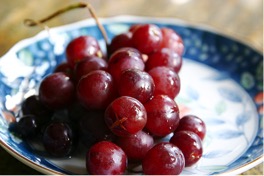 We all love candy, but it seems like kids have a few extra sweet teeth, pushing them to constantly search out sugary treats. While delicious, they are incredibly unhealthy and really bad for their teeth.
To avoid stomachaches and dentists visits, try freezing a handful of grapes and then serving them up as a healthy snacking alternative.
Grapes are naturally sweet and packed full of anti-oxidants that help fight against heart disease.
Simply load a whole bunch in the freezer and your kids can take them as needed.
4. Black Bean and Corn Quesadillas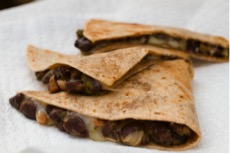 The name itself should already have you salivating.
If you're feeling a little more adventurous, but still want to save on time, this fun snack is the perfect option for you.
Family Circle offers an incredibly simple recipe that takes only 8 minutes from start to finish. This healthy snack includes avocados and black beans, which are packed with nutrients that promote healthy bones and lower blood pressure.
5. Cheerios Breakfast Smoothie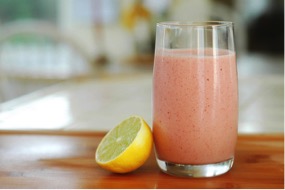 General Mills is known for making some of our favorite cereals. But did you know you could use that same cereal to make a delicious breakfast smoothie?
Smoothies are great for kids on the go who may not have the time to sit at the table and eat.
Next time you're trying to get your kids out the door for soccer practice, reach for the blender. Whip them up a delicious fruit smoothie they can drink in the car.
Check out this recipe from General Mills that calls for bananas, strawberries, blueberries and of course Cheerios, which help lower cholesterol.
If you want to make it extra nutritious, throw in some spinach. It's nearly tasteless, but will add protein, iron and other important vitamins that are great for healthy skin, hair and bones.
Bonus Snack: Peanut Butter Cracker Delight
Still hungry for more?
Here's one last quick recipe we know moms everywhere will enjoy.
I remember one night long ago, my cousin and I were hungry for a quick snack. Not having anything simple, my mom reached for whatever she had. In this case, it was saltines, peanut butter and fruit loops.
Hence was born Peanut Butter Cracker Delight.
Next time you're in the store, pick up some low-sodium saltine crackers, nut putter and your children's favorite cereals.
Just spread a little butter on the cracker and have your kids decorate it with their favorite cereals.
Not only is it fun, it's incredibly fast and leaves practically no mess.
Enjoy the family secret and happy snacking!
Image credits: Sara Edwards, Hamburger Helper, U.S. Department of Agriculture, Jessica and Lon Binder, John Watson